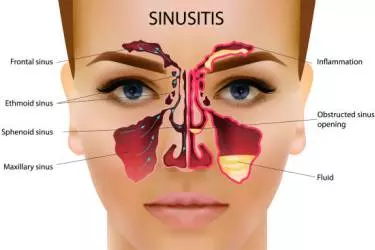 Sinus Problems
Sinuses are connected system of hollow cavities which are located behind your nose, cheeck bones, eyes and forehead. The inner lining of these cavities is a pink sticky substance called mucosa. They are like highways through which the air, that we breathe, passes before going into the lungs. The purpose of these sinuses is to filter the air of all kinds of impurities. The mucosa picks up the dust and smoke particles in the air and sticks those to itself. The pure air is then moved into the lungs. The dirty mucosa is excreted by the body in the form of phlegm through the nose and the mouth. Due to sudden change of temperature or extremely polluted air these highways get completely blocked and the passage of air is stopped. This condition is called sinusitis or common cold and cough. The dirty mucosa then starts to drip into the throat and causes throat infection. When the sinuses are blocked you are forced to breathe through the mouth which has no mechanism to purify the air and therefore the polluted air goes into your lungs and causes lung congestion.
Treatment of Chronic Sinusitis
One of the easiest and the best way to treat Chronic Sinusitis is inhaling steam at regular intervals. The hot steam opens up the blocked sinuses and drains the mucosa. If inhaling of the steam is not giving desirable results then the ENT specialist will prescribe some antibiotics. However if you tend to get into this condition several times in a year then taking antibiotics everytime would reduce the immunity of the body. In such cases, it is advisable to undergo Sinus Surgery. Endoscopic sinus surgery is most commonly performed for inflammatory and infectious sinus disease. Functional Endoscopic Sinus Surgery (FESS) involves the removal of diseased sinus tissue with improvement in the natural drainage channels by the creation of a pathway for infected material to drain from the sinus cavities. The surgery is done through the nasal cavity and no incision needs to be given. Due to this reason it is an almost bloodless surgery done under general anaesthesia. The hospital stay is one day.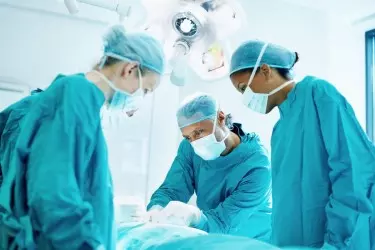 Best Doctors and Cost
The ENT Surgeon at Sethi Hospital has long experience in the management of Sinus problems both medically and surgically. The cost of Endoscopic Sinus Surgery is Rs. 55,000 - 75,000 depending on the category of room chosen by you for admission to the hospital. The surgery can be done in daycare and the patient can go home on the same day. Nasal pack would be applied to your nose while giving discharge from the hospital which can be removed within a day or two. Most of the insurance policies do not cover this surgery within the first two years of the policy. However if you are holding an insurance policy which has been provided by your company then the surgery is covered from day one. You also have to check the room rent eligibility in your insurance policy to make sure that you get the complete claim amount and there are no deductions. If you opt for a higher category room than what you are eligible for, then you may have to bear some expenses for your treatment