What is Testicular Torsion
Men have two testicles which are found in a sac called scrotum located just below the penis. The testes produce testosterone, male sexual hormone which is responsible for the sexual arousal in men resulting in erection. The spermatic cord supplies blood to the testes and when this cord gets twisted, the blood supply to the testes is blocked which is an acute emergency. If the blood supply to the testes is not restored immediately then the tissues in the testes would start dying causing irreversible damage. This condition is most common in men below the age of 25 years and a strong reason for this is present since birth. This can happen due to injury sustained during physical activity but can also happen during sleep. Pain and swelling in the scrotum are the key symptoms for testicular torsion. The pain may come all of a sudden and can be very severe.
Treatment for Testicular Torsion
When you are faced with these symptoms, you must immediately consult a general surgeon or a urologist at the nearest hospital. The doctor will do a personal examination to examine any kind of swelling in the scrotum. Urine test is done to find out any infection and ultrasound of the scrotum will provide useful information about the blood flow to the testes. If the blood flow is reduced then it could be due to tortion of the testes. In some cases the doctor can restore the blood supply by manual manipulation of the spermatic cord but mostly surgery would be required. The surgery is done under general anesthesia and should be performed within six hours of the onset of the condition otherwise the testes could be lost and would have to be removed. During the surgery the twisted cord would be straightened and sutures would be given to keep the testicles within the scrotum and prevent a repeat in the furture.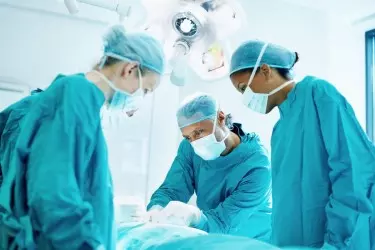 Best Doctors and Cost
In cases of testicular torsion, the surgery is done by Dr. Pramod Prasad who has more than 25 years of experience in this field. The cost of the surgery would be Rs. 25,000 - 30,000 in daycare. The patient can go home few hours after the surgery but for the insurance patients may have to stay in the hospital for one night. Most of the insurance companies would not cover the surgery within the first two years of the inception of the policy. For insurance policies which are provided by your company, the surgery is covered from day one. Some insurance companies treat this as a congenital defect in order to avoid making claim payment which is not correct. This condition is an accident and can have its roots in congenital defect but cannot be attributed to that for the purpose of denying insurance claim. For any query please whatsapp at +91-124-4118001 or email at info@sethihospital.org