Body Weight
Human body is such that theoritically you can become as fat as you want because the skin has a lot of elasticity. If you consume more calories than what you burn on a daily basis then the extra calories are stored in the body in the form of fat. So if you consume 500 KCal more on a daily basis then in 18 days this becomes 9000 extra Kilocalories which is equal to one kilogram of body weight. What should be your ideal body weight is known through a term called BMI – Body Mass Index. The BMI is calculated by dividing your body weight in kilograms with the square of your height in metres. So if your body weight is 100 kg and the height in meters is 1.83 m then your BMI would be calculated as 100/(1.83 x 1.83) = 29.86 which puts you in the overweight category. A BMI of 20-25 is considered best while 25-30 is overweight, 30-35 is obese and above 35 is considered as morbidly obese.
If you have a BMI which is in excess of 35 then you are a good candidate for Diabetes, Hypertension, Joint Disease, Cancer, Heart Disease. For people who are so fat, the life itself has no pleasures. Your sexual function will go down and you would not be good for any other activity also. Ideally one must never reach such a stage but if you have neglected your body and reached this stage then help is at hand.
Weight Loss without Dieting
When you consume any food item which contains artificial sweetner like white sugar your body gets instant calories which get converted into fat and contribute to the problem of obesity. Stop eating white sugar in any form - stop or reduce the consumption of sweets, buiscuits, chocolates. Take tea and milk without sugar and you have taken the first major step towards weight loss. When we eat cooked food, the digestion is much faster in the intestines and again instant calories are received by the body. On the contrary when you consume raw food - all the fruits, vegetables, nuts and seeds, it takes much longer for these items to get digested and release calories into your blood. The speed with which these calories are released in your blood is the speed at which you are expending calories. So the calories received are not converted into fat but are consumed in doing the routine work of your daily life. This keeps you much more energetic and your metabolism rate increases. So if you replace the cooked food in your diet with raw vegetables and fruits then you start losing extra body weight without resorting to any form of dieting. The best thing about raw food is that you cannot overeat. Since there is a lot of chewing to do, you resort to eating small portions at frequent intervals which is known to be the healthy thing to do. With this kind of diet you can easily lose 5-6 kg of body weight per month and you become much more active in your daily life.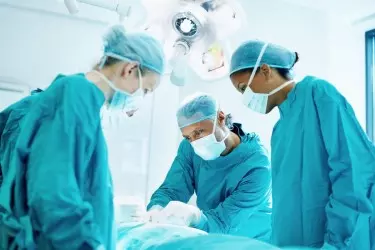 Surgery for Weight Loss
Our surgeons will come to your rescue and bring you back to your earlier self before you started to gain weight. The surgeon will reduce the size of your stomach so that it cannot get enough food and once your giant body does not get enough calories it starts converting the stored fat into calories and you start losing body fat at a very fast pace. This Surgery is called Bariatric Surgery.
Bariatric Surgery, also known as Metabolic Surgery is done on people having a BMI of more than 40. The most common bariatric surgery procedures are gastric bypass, sleeve gastrectomy, adjustable gastric band, and biliopancreatic diversion with duodenal switch.
Laparoscopic Sleeve Gastrectomy : In this surgery a part of the stomach is removed and the stomach is shaped as a sleeve. Our surgeon will use the Laparoscope to make 3 tiny holes in the upper torso. A part of the stomach is cut and removed. The rest of the stomach is stitched together using staplers. Now that your stomach is very small it becomes full with very little food. You are going to be discharged from the hospital within 2 days. After the surgery your diet would reduce drastically and you would be given supplements to maintain the nutrition levels. In the weeks after surgery you would be losing body weight of almost 1-2 kg every week. In about 6 months time you would be lighter by almost 25-30 kgs.